Weather
IMAGES| Residents of Florida Panhandle assess damage after Michael
Marc Weinberg and Travis Ragsdale are in the Florida Panhandle covering the aftermath of Hurricane Michael.
Thursday, October 11th 2018, 9:51 AM EDT
PANAMA CITY, Fla. (WDRB/AP) -- The devastation inflicted by Hurricane Michael came into focus Thursday with rows upon rows of homes found smashed to pieces, and search-and-rescue crews struggled to reach the stricken areas in hopes of accounting for hundreds of people who defied evacuation orders.
At least two deaths were blamed on Michael, the most powerful hurricane to hit the continental U.S. in over 50 years, and it wasn't done yet: Though weakened into a tropical storm, it continued to bring heavy rain and blustery winds to the Southeast as it pushed inland, soaking areas still recovering from Hurricane Florence.
Under a perfectly clear blue sky Thursday, Florida families emerged tentatively from darkened shelters and hotels to an unfamiliar and perilous landscape of shattered homes and shopping centers, beeping security alarms, wailing sirens and hovering helicopters.
WDRB's Marc Weinberg and Travis Ragsdale were there when Michael made landfall with 155 mph sustained winds. Weinberg says at some point, Michael's winds may have reached speeds that would classify it as a Category 5 storm. 
"This thing was one or two miles an hour off being a Category 5," Weinberg said. "For this part of the country, you just don't get that. This one was an intensifying storm that I would argue probably was Category 5, and the pressure was low enough.
"By pressure, it was the third most intense hurricane ever."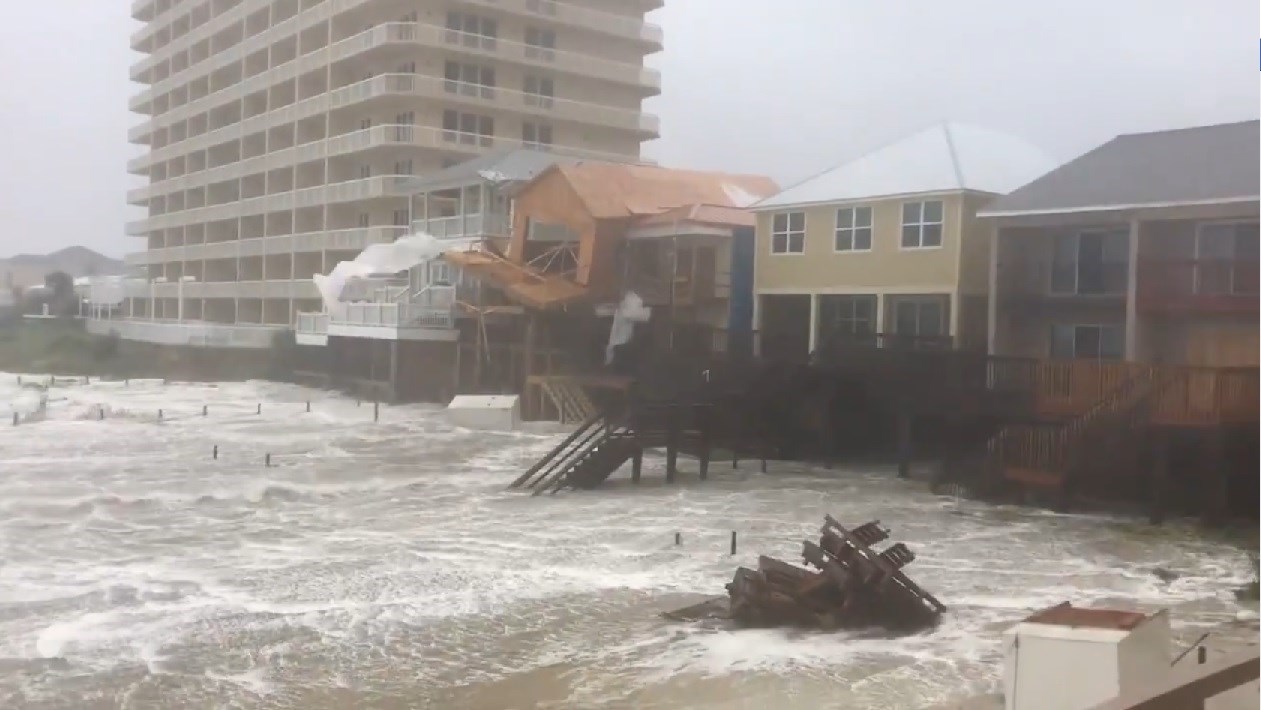 Based on its internal barometric pressure, Michael was the third most powerful hurricane to hit the U.S. mainland, behind the unnamed Labor Day storm of 1935 and Camille in 1969. Based on wind speed, it was the fourth-strongest, behind the Labor Day storm (184 mph, or 296 kph), Camille and Andrew in 1992.
Power was out throughout Panama City, and thousands of law enforcement officers and search and rescue teams rolled out across the panhandle in the storm's wake to find survivors amid the wreckage of homes where people defied evacuation orders.
Michael washed away white sand beaches, hammered military bases and destroyed coastal communities, stripping trees to stalks, shredding roofs, toppling trucks and pushing boats into buildings.
Damage in Panama City, just west of where Michael came ashore Wednesday afternoon, was so extensive that broken and uprooted trees and downed power lines lay nearly everywhere. Roofs were peeled away, sent airborne, and homes were split open by fallen trees. Twisted street signs lay on the ground. Palm trees whipped wildly in the winds.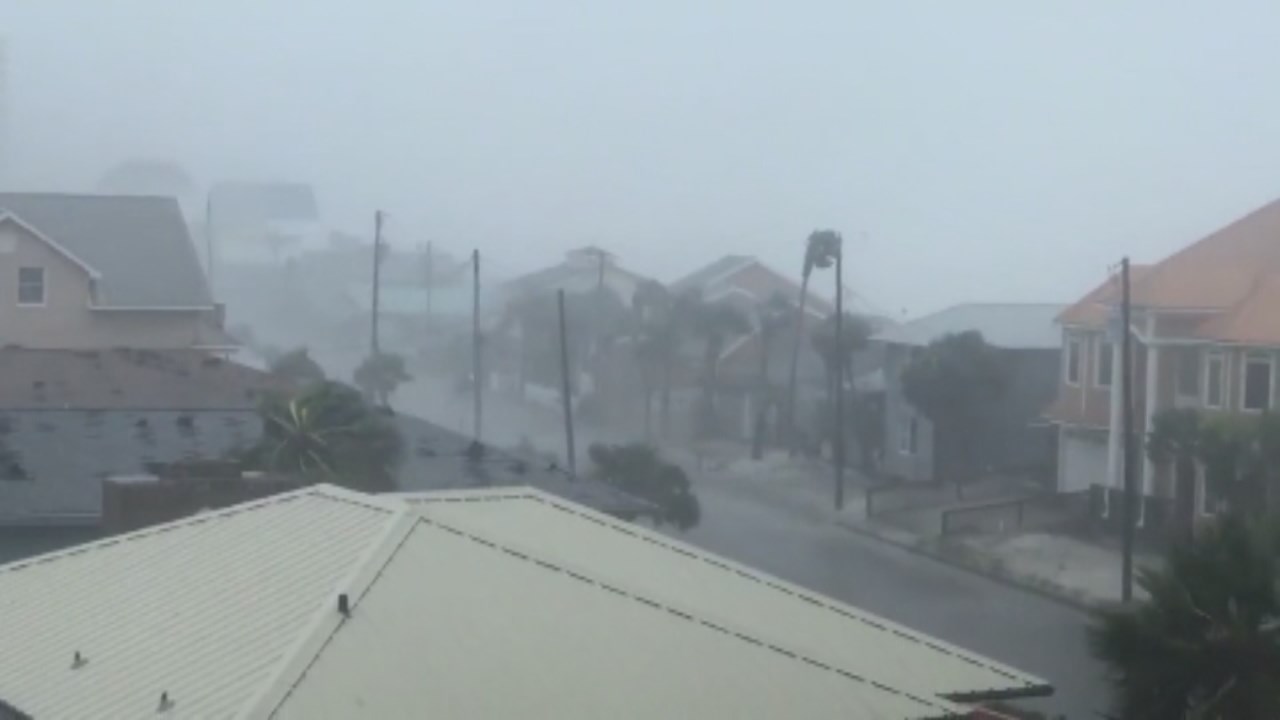 Weinberg said the damage wasn't as bad in some parts of the city. 
"When you get into the western side of Panama City Beach, we noticed that there was much less damage, although there was damage to one high rise," Weinberg said. "But when you started to move east, the damage increased fast."
"So on the eastern side of Panama City Beach, there were warehouses that were just blown apart ... there were buildings that were just leveled down to the ground."
Weinberg says there was also massive tree damage near Mexico Beach. "All of the trees were just gone."
People we spoke with on Thursday were still visibly shaken by their experience. 
Many homes were ripped apart or washed away altogether in Mexico Beach, a town of 1,000 where the hurricane made landfall and the storm surge pushed lead-grey water up to the rooftops. Authorities said falling trees killed a man outside Tallahassee, Florida, and an 11-year-old girl in southwest Georgia.
The full extent of the damage was only slowly becoming clear, with some of the hardest-hit areas difficult to reach because of roads blocked by debris or water. An 80-mile stretch of Interstate 10, the main east-west route along the Panhandle, was closed.
"Recovery efforts will have to go on for weeks, days, even months, Ragsdale said. 
Weinberg has covered many storms in his career, but says he has never seen this kind of wind damage from anything other than a tornado. 
"What makes this different is it's not just really near the coast -- we've driven a large distance -- and the one thing that you see is once you get to the eastern side of Panama City Beach, and you start to continue east, it just continues ... the buildings will get repaired fairly quickly, but for the trees it will take years."
Areas like Destin, Rosemary Beach and Fort Walton managed to escape serious damage from the storm. 
"This is a historic storm," Weinberg said. 
There was good news for one Mount Washington resident. Diana owns a vacation home, and Ragsdale was able to call her and let her know that her home escaped major damage, with the exception of the roof on a carport.  
"I'm sitting out in front of your place right now, and it is fine," Ragsdale said. 
Other residents in the panhandle weren't as lucky. Some of the worst damage was in Mexico Beach, where Michael crashed ashore Wednesday as a Category 4 monster with 155 mph (250 kph) winds and a storm surge of 9 feet (2.7 meters). Video from a drone Thursday revealed widespread devastation across the town of about 1,000 people.
Entire blocks of homes near the beach were obliterated, reduced to nothing but concrete slabs in the sand. Rows and rows of other homes were turned into piles of splintered lumber or were crumpled and slumped at odd angles. Entire roofs were torn away and dropped onto a road. Boats were tossed ashore like toys.
A National Guard team got into Mexico Beach and found 20 survivors overnight, and more crews were pushing into the area in the morning, with the fate of many residents unknown, authorities said. State officials said 285 people in Mexico Beach had refused to leave ahead of the hurricane despite a mandatory evacuation order.
Mishelle McPherson and her ex-husband searched for the elderly mother of a friend. The woman lived in a small cinderblock house about 150 yards from the Gulf and thought she would be OK.
Her home was reduced to crumbled cinderblocks and pieces of floor tile.
"Aggy! Aggy!" McPherson yelled. The only sound that came back was the echo from the half-demolished building and the pounding of the surf.
"Do you think her body would be here? Do you think it would have floated away?" she asked.
As she walked down the street, McPherson pointed out pieces of what had been the woman's house: "That's the blade from her ceiling fan. That's her floor tile."
The beach town was difficult to reach by land, with roads covered by fallen trees, power lines and other debris. The governor pleaded with people in the hard-hit areas to stay away for now.
"I know you just want to go home. You want to check on things, and begin the recovery process," Scott said. But "we have to make sure things are safe."
Over 900,000 homes and businesses in Florida, Alabama, Georgia and the Carolinas were without power.
Thousands of National Guard troops, law enforcement officers and medical teams began making their way across the stricken zone.
The Coast Guard said it rescued at least 27 people before and after the hurricane came ashore, mostly from homes along the Florida coastline, and searched for more victims.
Among those brought to safety were nine people rescued by helicopter from a bathroom of their Panama City home after their roof collapsed, Petty Officer 3rd Class Ronald Hodges said.
The hurricane damaged hospitals and nursing homes in the Panama City area, and officials worked to evacuate hundreds of patients. The damage at Bay Medical Sacred Heart included blown-out windows, a cracked exterior wall and a roof collapse in a maintenance building. No patients were hurt, the hospital said.
The state mental hospital in Chattahoochee, which has a section for the criminally insane, was cut off by land, and food and supplies were being flown in, authorities said.
If you'd like to donate to hurricane survivors, you can go to the Red Cross online, call 1-800-HELPNOW or mail a check to:
American Red Cross Louisville Chapter

510 E. Chestnut St., Louisville, KY 40202
Be sure to include "Hurricane Michael" on the memo line.
Copyright 2018 WDRB Media. The Associated Press contributed to this report.