Sport
CRAWFORD | King shows signs of a breakthrough for Louisville
V.J. King scores 17 in Louisville's 86-41 pounding of Central Arkansas.
LOUISVILLE, Ky. (WDRB) – If you asked people for a nomination for Most Important Player on the University of Louisville basketball team before the season, V.J. King would've been a prime candidate.
He was named a team captain. New coach Chris Mack raved about his work ethic and attitude in the preseason. He added some muscle in the weight room.
But King has been frustrated for most of the early going. Whether it was a brief controversy over his name coming up on some FBI transcripts or just general unhappiness with his game, King has appeared to be in a funk at times, though whenever he got into games he continued to put forth effort and was solid defensively.
At Seton Hall, King showed signs of emerging. He logged 10 minutes and scored a key basket late on a drive to the basket and a layup through contact.
He followed that up with a 17-point, 6-rebound, 4-assist effort off the bench in Louisville's 86-41 pounding of Central Arkansas.
In that game was the blueprint for what Mack would like to see from King. He relentlessly attacked the basket, and went 8-10 from the field. He got into the lane and created opportunities for others – only point guard Christen Cunningham had more assists. King's floor ratings – the percentage of possessions on which a team scores while a player is in the game – was 62.2 percent, the highest on the team.
He put an explanation point on the performance with an athletic follow dunk in the game's closing minutes.
"I know that he's been struggling with not playing his best and being bothered by it," Mack said. "You never see him frown in the locker room, he doesn't mope, he doesn't pout. Put him out of the starting lineup, bring him off the bench, he doesn't change his demeanor. In some ways, you wish he would, get a little bit fired up. It was great to see. I thought he was aggressive. He attacked the rim. I thought defensively he did a terrific job keeping guys in front of him, and that's how we need V.J. to play each and every night. Not necessarily the points, but just attacking and aggressive."
That this team is 6-2 when King hasn't been at his best is impressive. Where it could go if King continues his recent climb back into form is more impressive still.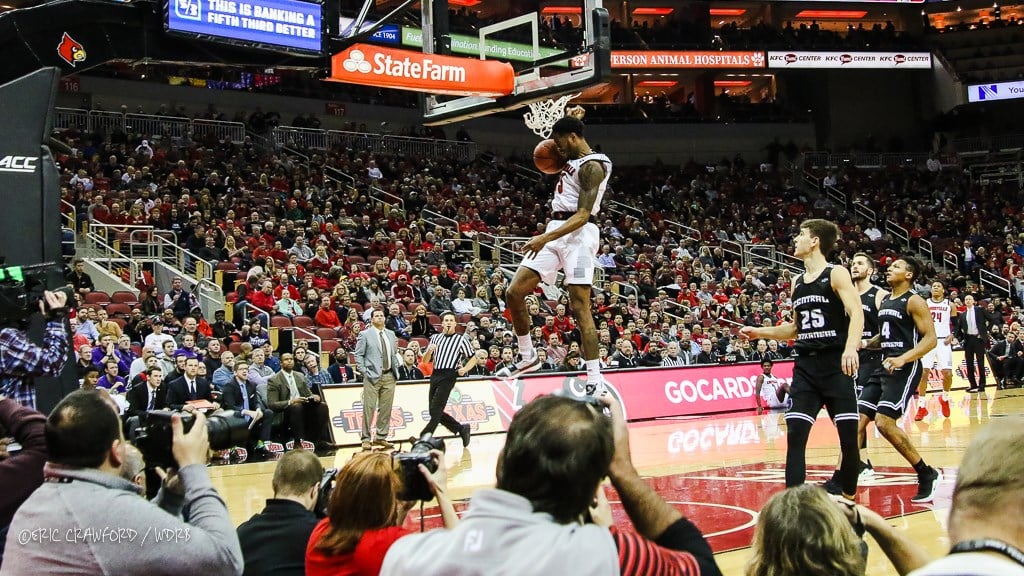 King was smiling in the postgame press room, saying his focus has been on defense and on just paying attention to details in his game. He's always been pretty affable, and answered questions about Lebron James and his jump shot with equal candor and good humor.
"For me I just try to focus on making the right play, focus more on my strength, getting to the basket more, playing great defense," King said. ". . . On that dunk, I got up there and didn't see any need to come down with it. I don't know why I stared at the guy after. I needed to get back on defense. My guy got an open three, if he'd made it I'd have been in trouble."
This game showed some maturity in this Louisville team. It came in a precarious spot, on the heels of a big road win over Seton Hall and right before a big road game at Indiana. But Louisville never had a single lapse in this game. It led from the opening score. It opened a big lead and stayed on the gas, never let up on defense, and despite a couple of dry spells on offense, did not descend into frustration or the kind of garbage-time play you might expect when a team gets a 40-point lead.
"I was really pleased with how our guys played the game," Mack said. "I felt like, from the very beginning all the way to the end, that we never played the score. We were ready to play. I thought our defense was as good as it's been all year. I don't think the opponent, Central Arkansas, played very well. But, I've been in a lot of games when the other team doesn't play very well, your guys play down to the level of competition, and that's what you fear as a coach because it leads to bad habits, bad shots. I thought our togetherness, I thought our defensive effort, was up to the standard that we set every single day. It's good to see."
"I give our seniors and our upperclassmen a lot of credit for being a mature group. When you come out there and you go through warmups and nobody's really in the stands, and you find out that they have one of their best players on suspension, I think it's a little bit easier to go out there and just try to get some buckets and have fun. Then next thing you know it's a 40-point game with three minutes left in the half. Guys like Christen Cunningham, V.J. and Dwayne Sutton are bit more mature than that and that's a good sign."
Jordan Nwora led all scorers with 21 points, going 7-10 from the field and 4-4 from three-point range. Louisville also got 16 points from Steven Enoch on 7-10 shooting.
Next up for the Cards is a Saturday matchup with Indiana in Bloomington.
Copyright 2018 WDRB Media. All Rights Reserved.